How to Pay?
06.10.2019
|
UNHSHOES.COM
|
Guide

How to pay?
1.PayPal (Send money to family & friends)

Please
contact with us

for PayPal address, and choose

"

SEND MONEY TO FAMILY & FRIENDS

" or "Send A Gift"

thank you!

I.If you using PayPal, we'll give you a 10% Off discount coupon after your payment finished(return by coupon), it can be used for next order!
II.If payment over $30, we will afford transaction fee(you can pay less $4!), Then your order will go through soon after payment, thank you!
III.Your payment and privacy is 100% protected!
Instagram: UNHS2018

Contact us Email: unionhouse@vip.126.com(this is not paypal address)

Whatsapp:+14086202430
----------------------------------------------------
2.Credit Card & Debit Card (VISA/MasterCard/JCB/AE Etc.)

Step 1. Click "BUY NOW" or "Add to Cart" to check out→ Add all shipping address details page → Click "Complete Order".
(Now you finished placing order step but without payment)↓
Step 2. Copy and open in new TAB this Payment link:

https://teebee.co/pay_p4665.html

, then leads you to our new payment page.

Step 3. For example, if your order amount on
UNHSHOES.COM

is

$81.6

, you need to fill in

quantity of 81

on new payment page, then complete the next other steps. (very easy)
Step 4. After finishing payment on new payment page, we will confirm your order soon.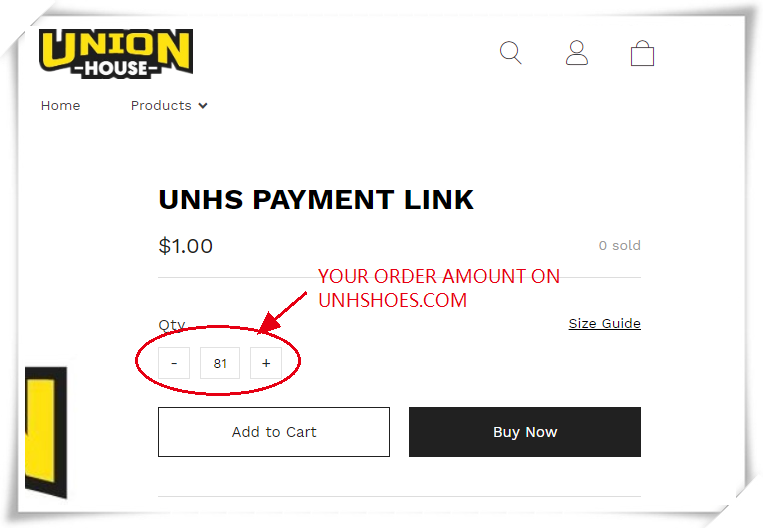 ————————————————————————————————————————
3.Local Payment Method: Giropay/Ideal/Neosurf/Transferwise/Paysafecard/Sofort/Openbucks
All the stpes of placing order are same as Step 2, just you can choose these Local Payment Method at last payment step if you need use these.

————————————————————————————————————————

All the transactions and privacy is under McAfee Shopper Protection, your information is strictly protected. If you have any problem, please contact with us!

PS: This is our official website which can solve the payment issue of

UNHSHOES.COM

, so that customers can ues Credit Card and Debit Card much easier, thanks for understanding!